Carlos Suarez - Production Manager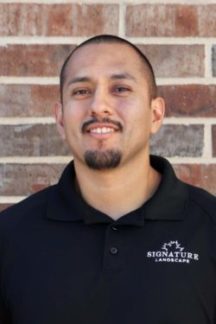 Landscape Industry Since: 2011
Signature Landscape Since: 2012
Carlos grew up in Oxnard California and moved to Kansas City when he was eleven years old. He started working in the landscaping field in 2011 at Konrady's Landscape.
A year later, with the acquisition of Konrady's Landscape, Signature was very fortunate to have Carlos join their team. In 2014, Carlos began working for a hardscape company, where he acquired valuable additional skills. In 2015, Carlos was offered the opportunity to become an Irrigation Technician and rejoined the Signature team. He enjoyed all the challenges that came with working in the Irrigation Department, as well as learning the physics behind it all.
Carlos says what he loves most about the landscaping industry is working outside and the physical challenges. Carlos was promoted to Production Manager in 2019 and says he "is loving this roll." Carlos comments, "there is always something new to learn in this business, and looking at it through a leader's point of view is another interesting lens."
Carlos' advancement from mowing to irrigation to Production Manager is a shining example of career development achievements that Signature desires for all its employees.
When Carlos is not at work, he spends his time with his girlfriend and their two kids, who keep him busy always.